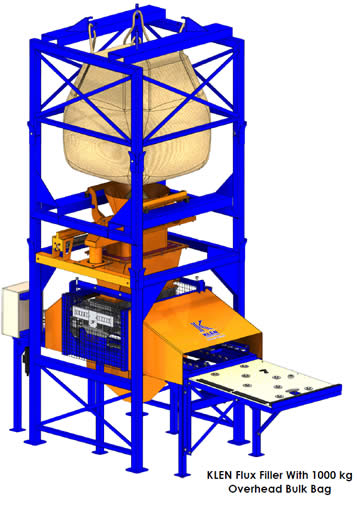 The KLEN Flux Filler has been designed to significantly reduce the incidence of elevated lead levels experienced by Fire Assay Laboratory workers—especially those directly involved in the preparation of samples for firing.
The KLEN Flux Filler also significantly reduces the number of man-hours, tedium and potential inaccuracies of manually measuring flux into the samples as this process is now fully automated, and fills multiple pots with a prescribed measure of flux in a dust free environment (connects to existing dust extraction system).
The KLEN Flux Filler has a through put of approx. 1800 pots per hour (depending on magazine configuration) and has undergone an extensive testing & fine tuning period in a busy Fire Assay Laboratory processing about 3500-4000 samples per day.
The flux filler is intrinsically safe as all control and actions are carried out with pneumatics.
Technical Details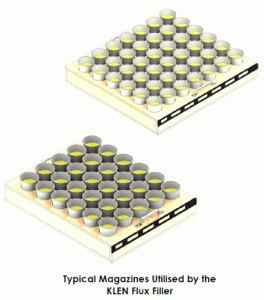 The KLEN Flux Filler can be ordered to suit a laboratories pot number & configuration layout (e.g. 5 x 6 pots) and utilises paper cups placed in a magazine (typically made from MDF) in the required configuration.
The KLEN Flux Filler utilises bulk bags of KLEN flux (500kg or 1000 kg) suspended in an easily loaded frame above the filler, the magazine is then pre-loaded with cups containing the powdered sample and fed in to the inlet side of the filler. The machine then draws the magazine in and indexes it past the filling head, once all rows are filled it rolls out to the take-off table with correct amount of flux added to each sample.
A typical installation should also include a KLEN Mixer which will accept the filled magazine and rotate it until the flux is adequately mixed with the sample.
Advantages of the KLEN Flux Filler
Supplied to accept your pot numbers & configuration.
Magazines roll in and roll out, allowing it to connect to other equipment via simple roller conveyors.
Supplied to suit the amount of flux you require, with an typical accuracy of plus/minus 5 grams.
Flux volume can be altered onsite by changing the filling chambers in the dispensing head (about 2 hrs)
All working components are fully enclosed and ready to be fitted to your dust extraction system.
Full pneumatic control system (7 bar—100 psi) – no electricity required.
Bulk bags means reduced handling of the flux – bags are easily loaded by forklift.
Simple to clean & maintain.
Options
If the lab has insufficient head room, a bulk hopper at floor level can be used with an enclosed lift conveyor to the feed hopper.
Add a Flux Mixing Machine to complete the process.
Custom designs, additional handling equipment & interconnecting conveyors for full laboratory integration.
View PDF >